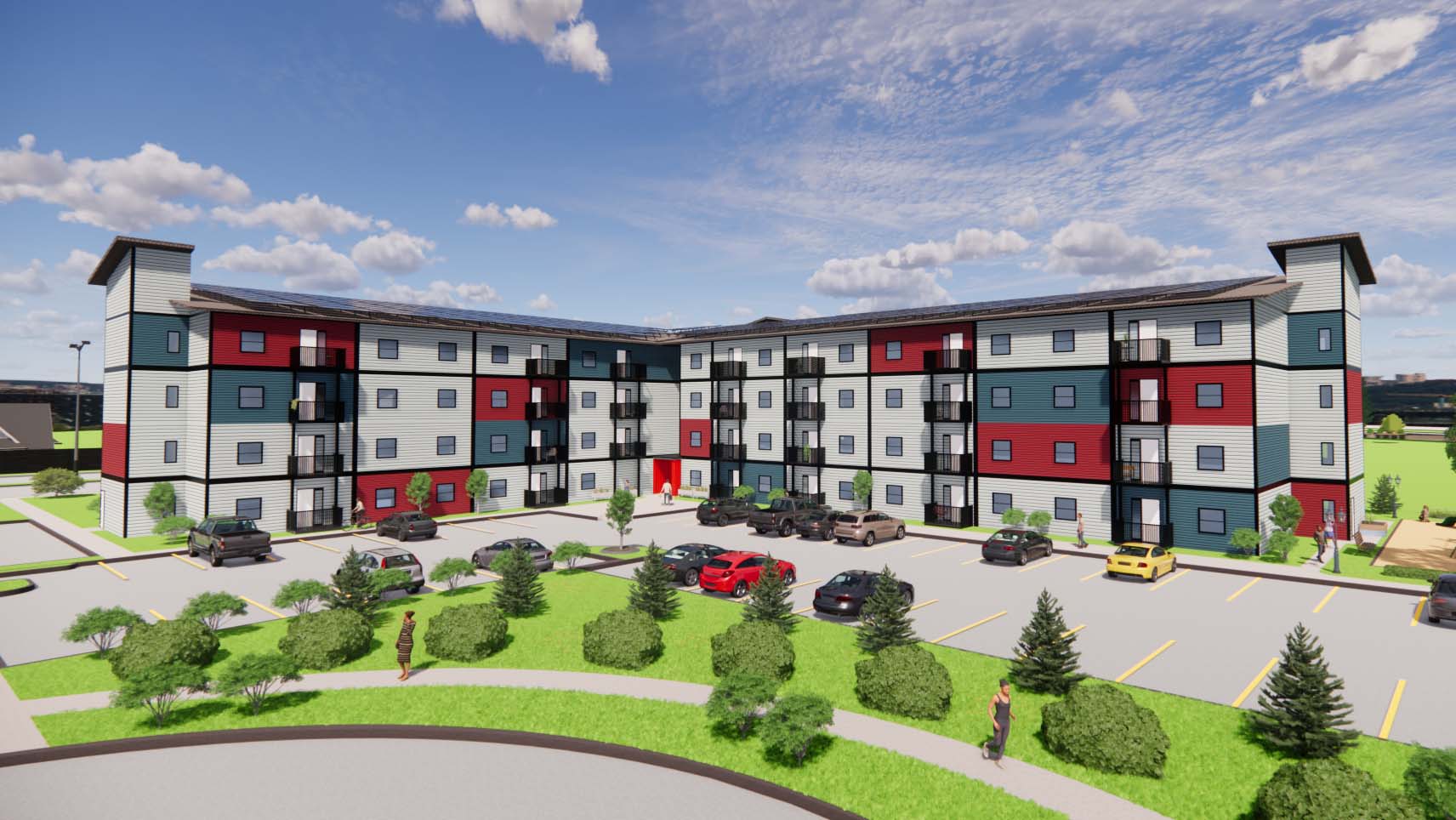 Net Zero Affordable Housing Project
Solving myriad design challenges, even on a modest budget, is part of what makes VOSH relish housing projects like this one. Beginning in 2016, our team led the conceptual design for our client's winning submission for a provincial design competition that challenged both developers and builders to explore innovative affordable housing options. After much research and a number of visits to various local modular construction sites and manufacturing facilities, it became clear that incorporating the use of repurposed shipping containers for the design and construction of an affordable multifamily housing project would not only meet the design competition's criteria of "integration, sustainability, livability and innovation", but also address the shortage of quality affordable housing in smaller, rural communities in a unique and cost-effective way. Since then, we have worked closely with Heartland Housing Foundation to help bring this project one step closer to fruition with the aid of additional funding that was secured on the basis that this affordable housing project would meet Net Zero Energy requirements and incorporate innovative design and construction methodologies.
The use of repurposed shipping containers for modular housing projects is not a new concept. The challenge in cold-climate regions where temperatures can plummet to -40°C or -50°C lies in the design and construction of shipping container housing projects capable of withstanding the severity of Canadian winters. Specialized design considerations unique to cold-climate regions, such as the design and construction of high-performance building envelopes, requires an understanding of not just heat, air, and moisture, but also of climate, design, and occupant behaviour. In addition to meeting Net Zero requirements, our concept for the Innovative Housing Project requires the design of a building that can withstand higher humidity levels without compromising the building structure — an ongoing process that evolves as new techniques and building materials emerge.
The Muriel Ross Abdurahman Court project is a four-storey, 83-unit (with a minimum of 8 adaptable units for individuals with accessibility needs) multifamily apartment building that utilizes repurposed shipping containers. Unit sizes range from studios and 1 to 3-bedroom suites with the main floor consisting entirely of barrier-free suites. Targeting Net Zero, the design incorporates a number of sustainable design features that will help save energy, use space efficiently and reduce waste.
VOSH is extremely proud of our involvement in this project, which placed third in the Housing (Up to 5 Floors – Conceptual) category for the international 2020 Rethinking the Future Awards. With the start of the construction phase in late March 2021, we are excited to see this project come to fruition!
Status
Construction Phase
Client
Heartland Housing Foundation
Location
Fort Saskatchewan, AB
Size
6,711 m² / 72,236 ft²