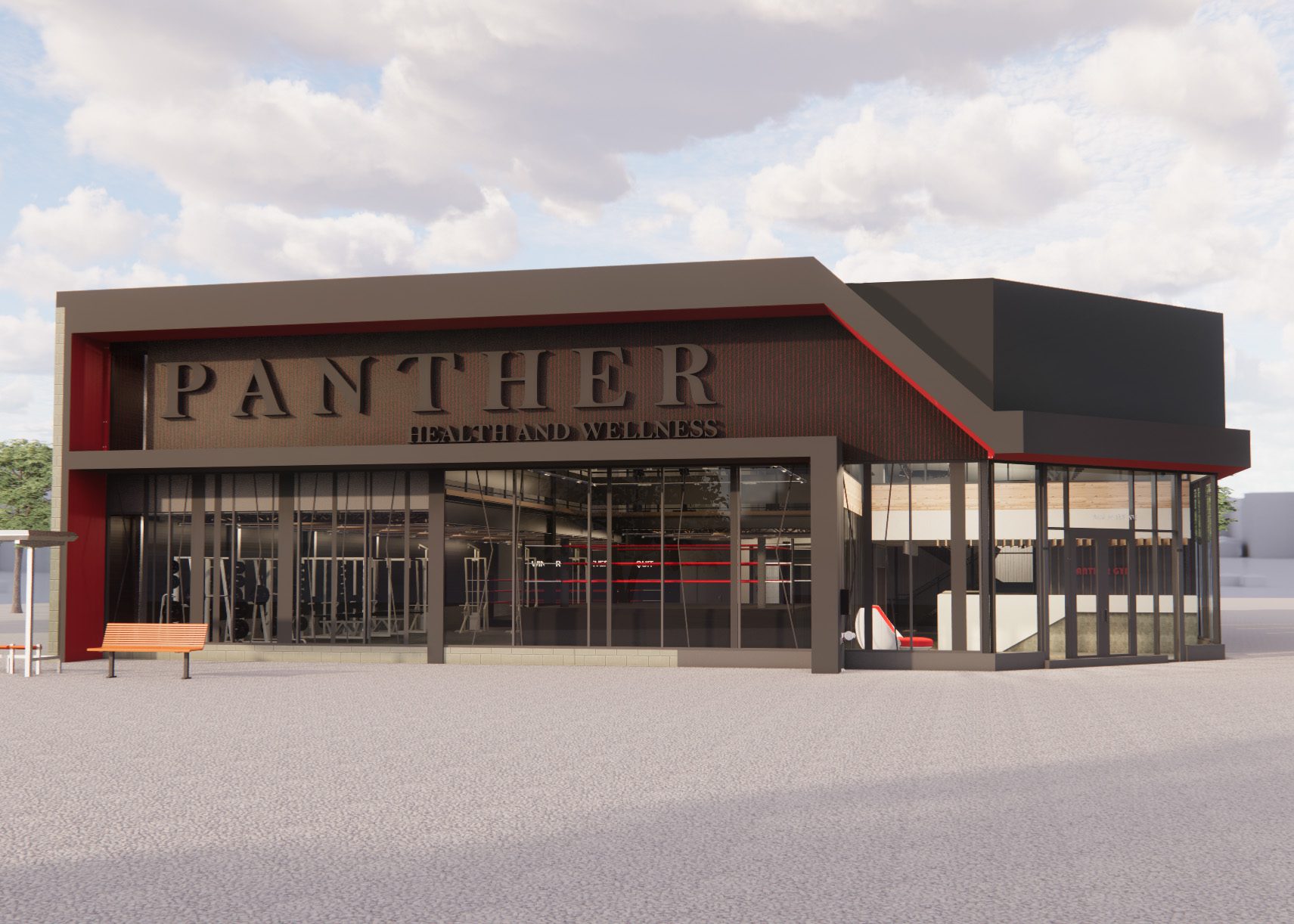 Panther Health and Wellness Centre
Located on the tail end of Whyte Avenue, Edmonton's celebrated arts and cultural district, Panther Health and Wellness Centre is a welcome addition to Old Strathcona's plethora of unique local boutiques, bespoke art galleries and trendy cafés and restaurants. Formerly known as the home of Scona Cycle, the building will be getting a much-needed makeover that will energize its surroundings with a bold design and a fun pop of colour to a corner of 82nd Avenue that boasts huge curb appeal. Throughout the design phase, the VOSH team worked closely with our Clients, who brought a number of exciting ideas to the table. Together, we left no stone unturned and the result of this powerful synergy is a vision that speaks to our Clients' approach to empowered healing, health and wellness.
The design of the new Panther Health and Wellness Centre is programmatically distinct in that it combines sport, recreation, health, wellness, and commerce under one roof. On the main floor of the 15,683 ft² building, patrons are welcomed into a contemporary gym space with two boxing rings, a dedicated fitness area, complete with a juice bar, multi-purpose flex space, an office and staff lounge. From the main floor to the basement, there is a noticeable shift in energy from the buzz of the gym area to the hum of the yoga studio, steam room, private and public locker rooms. The second floor is dedicated to several health and wellness amenities, which include a reception area and spa, as well as rooms for massage therapy, acupuncture, and chiropractic care. The second-floor mezzanine, which provides a clear view of the main boxing ring, incorporates another fitness area with a designated space for performance training service for athletes, fitness enthusiasts, and individuals of all ages and ability levels. Offices spaces, a staff break room and coffee station round off the spaces of the second floor.
Status
Construction Phase
Client
Private
Location
Edmonton, AB
Size
1,457 m² / 15,683 ft²